SCCA GT CHAMPIONSHIP
08/04/2006
Archer Fastest in Final Practice at Long Beach
Dodge Viper Proves Speed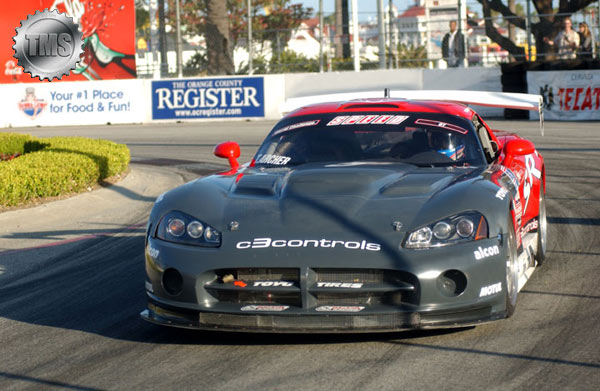 Archer Fastest in Final SCCA SPEED GT Practice at Long Beach

Where it took almost 10 laps to run the first practice session's fast time on Friday, SCCA Pro Racing SPEED World Challenge GT driver Tommy Archer needed just three on Saturday to turn the best lap in the final practice session in preparation of Sunday's SCCA SPEED GT race, part of the Toyota Grand Prix of Long Beach. Lou Gigliotti was second behind Archer for the second day in a row. Mike McCann was third.

His time of 1:27.224 (81.225 mph) was a shade quicker than the 1:27.348 he ran Saturday in his No. 5 c3controls/Autohaus Dodge Viper, and Archer said that his experience with street courses, along with his team's preparation, were possible reasons for his fast times.

"I've driven on a lot of street courses," Archer said. "You drive like the walls aren't there. The guys who do drive like the walls are there are going to go a little slower because they are bailing off of the throttle.

"The team continues to work on the car and make it a little more comfortable for me. We weren't all that much faster, but it was cold this morning. We'll just have to see what happens."

With qualifying next on the schedule, Archer said the team's preparation would remain the same aggressive.

"When qualifying comes, as we've seen all last year and this year, guys who weren't so fast in practice all the sudden become fast in qualifying. It's like they aren't showing their whole deck of cards," Archer said. "We just came in with the feeling that we should just go out there and play our game. And if they want to play theirs, then they can do that.

"We're an aggressive team," Archer continued. "I don't mess around. At St. Pete, it caught me out. In 2004 and 2005, there were a lot of passes I made that made me a hero because I made them. But when you make one mistake, you're a zero. But, you have to get through that if you're going to be an aggressive driver and an exciting driver.

"One thing my wife likes about me is when she comes to the track, she says she knows that when I catch somebody, I'm going to pass them."

In his No. 28 LG Pro Long Tube Headers Chevrolet Corvette C6, Gigliotti stepped up his morning performance late in the session, running his best time of 1:27.356 (81.102 mph) on his sixth lap.

Round One winner McCann came on late as well, grabbing the third fastest time of the session with a 1:28.012 (80.498 mph) in his No. 82 McCann Plastics/K&N Filters Dodge Viper.

Team Cadillac drivers took the next two spots as reigning SPEED GT Drivers' Champion Andy Pilgrim, of Boca Raton, Fla. (No. 1 XM/Mobil 1/Motorola/On Star/Cadillac CTS-V) was fourth with a 1:28.033 (80.479 mph) and Ron Fellows (No. 16 XM/Mobil 1/Motorola/On Star/Cadillac CTS-V) was fifth with a 1:28.210 (80.317 mph).


Copyright ©2000-©2016 TotalMotorSport