SCCA GT CHAMPIONSHIP
06/04/2006
ESX Motorsports Debuts SPEED GT Subaru Impreza
Development Season Scooby Specialists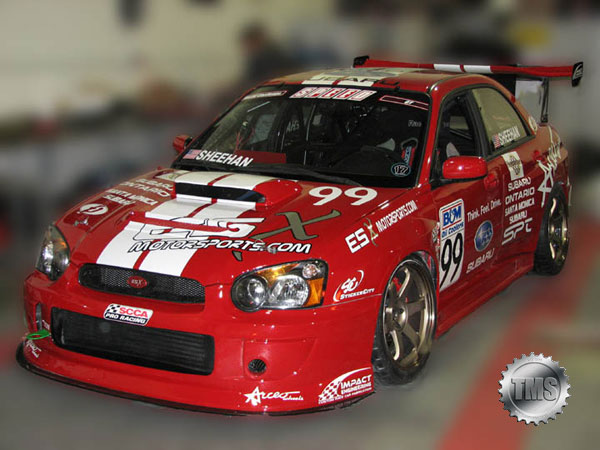 ESX Motorsports Debuts SPEED GT Subaru Impreza WRX STi at Long Beach

Easy Street Motorsports (ESX) announces a new entry in the highly competitive SCCA Pro Racing SPEED World Challenge GT field, with the team making its debut at the famed Long Beach Grand Prix, held April 7-9.

ESX Owner Ali Afshar said, "We've seen much success with the Subaru Impreza WRX STi winning 10 NHRA Championship 'Wally's', and we look forward to taking ESX and Subaru into battle against the world's best in the SPEED GT series."

Managed and engineered by Indycar and Sportscar veteran Marshall Pruett, the ESX team will look to capitalize on its success with the Impreza WRX STi last December, placing third overall in the world's longest endurance race, the 25 Hours of Thunderhill. Lead driver of the 25-hr. race and Subaru road racing veteran Gary Sheehan has been chosen to race and develop the ESX STi in 2006.

"Gary was my first choice when Ali and I decided to put this program together, Gary brings the raw speed, technical feedback, experience with the WRX platform, and professional demeanour I need to get the best results possible," said Pruett. "He's an incredible driver and racer--we're lucky to have him."

Gary Sheehan was ecstatic to learn he'd been chosen to pilot the ESX STi. "Ali and Easy Street have been phenomenal supporters of my driving, and I'm glad we can put our combined Subaru experience together to race in SPEED World Challenge," said Sheehan. "I raced and won in an all-wheel drive Subaru Impreza WRX in a different touring car series between 2001-2003, and fell in love with the car. I can't wait for the first practice session at Long Beach to begin."

With Long Beach serving as the home race for ESX, the team looks forward to their first appearance being in front of the 175,000 fans in attendance.

"We're fortunate to launch the team at our home race," said Afshar. "We know the huge potential of the Impreza WRX STi, and we hope that it will develop into a front runner."

Copyright ©2000-©2016 TotalMotorSport