ELSEWHERE AROUND THE WORLD
07/10/2005
Toyota Pro/Celebrity Scion tC Makes Its Debut
New Car At 2005 California International Auto Show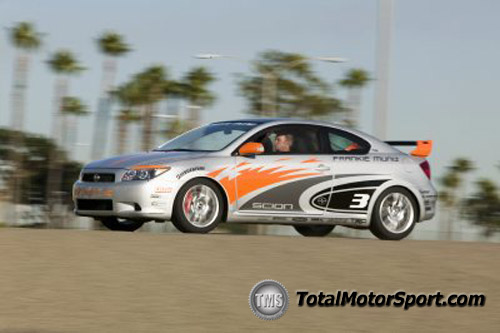 Toyota Pro/Celebrity Scion tC Makes Its Debut At 2005 California International Auto Show

Toyota Motorsports and Scion announced today that the Scion tC sports coupe will be the new official vehicle of the Toyota Pro/Celebrity Race. The 2006 Pro/Celebrity Race celebrates the 30th anniversary of this charity event held annually as part of the Toyota Grand Prix of Long Beach weekend. It also marks the first time in the race's history that a nameplate other than Celica will be featured.

"Being such and integral part of the Pro/Celebrity Race and the Toyota Grand Prix of Long Beach is a great opportunity for Scion and the tC," said Mark Templin, vice president, Scion. "The tC will be right at home and able to showcase its performance capabilities on the historic street course."

The race-ready, identically-prepared tCs will produce 170-horsepower at 5,700 rpm. They will be equipped with performance enhancements that include a DC Sports stainless steel exhaust and ceramic header, Centerforce single-disc racing clutch, Progress Technology racing coil-over shocks and springs, Stop-Tech brakes and full roll cage.

"The newly-designed Scion tC sports coupes are being prepared to debut in time for the 30th anniversary of one of America's premier motorsports events," said Les Unger, Toyota national motorsports manager. "The 2006 Toyota Pro/Celebrity Race will feature race-ready Scion tCs in which celebrities will compete for a chance at year-long
bragging rights and charity donations made on their behalf. In addition, we are pleased to have recently announced an extension of our title sponsorship of the Toyota Grand Prix of Long Beach through 2010."

The Toyota Pro/Celebrity race has evolved into one of the longest-running, corporate sponsored events of its kind, pitting celebrities from music, sports and film against professional drivers. The event benefits "Racing for Kids," a non-profit, national fund-raising program that supports children's hospitals throughout the United States.


Copyright ©2000-©2016 TotalMotorSport