GRAND AMERICAN ROAD RACING ASSOCIATION
05/10/2005
Daytona Prototypes Set for Street Fight
Series Set To Be Part Of Long Beach Weekend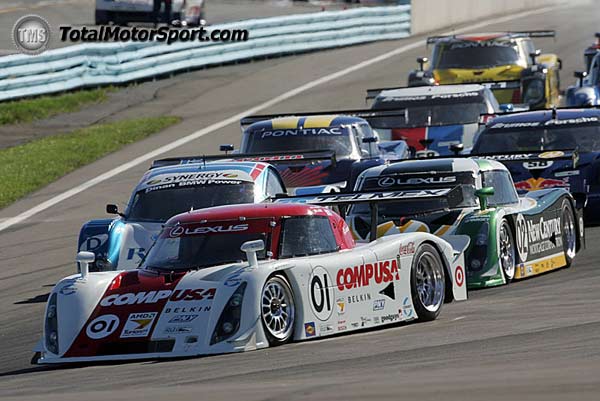 Rolex Series Daytona Prototypes Set for Street Fight on 2006 Toyota Grand Prix of Long Beach Weekend

The most competitive category in North American sports car racing will bring a round of its title fight to North America's premier street race in 2006, as officials from the Grand American Road Racing Association and the Grand Prix Association of Long Beach today announced that the Grand American Rolex Sports Car Series Daytona Prototypes will be a part of the 32nd Annual Toyota Grand Prix of Long Beach weekend.

On the afternoon of Saturday, April 8, 2006, more than two dozen Daytona Prototypes will roar down Shoreline Drive and take the green flag, topping off a spectacular day of on-track activity at the Toyota Grand Prix of Long Beach. The action-packed Saturday will also feature final qualifying for Sunday's Champ Car World Series Toyota Grand Prix of Long Beach, as well as Champ Car Atlantic Championship qualifying and the world-famous Toyota Pro/Celebrity Race.

"The addition of the Rolex Series Daytona Prototypes to the Long Beach race weekend will be something special," said Jim Michaelian, CEO of the GPALB. "Not only will this be the first time that the prototype sports cars have competed here but the sights and sounds of those exotic machines on the Long Beach streets should be exhilarating. This is just another way in which we continue to add value and entertainment for our fans."

The Rolex Series Daytona Prototype race will utilize a unique format, as the 90-minute "sprint race" will require all teams to make at least one pit stop and change drivers. Practice and qualifying for the Daytona Prototypes will be held on Friday, April 7, and SPEED Channel will televise the historic Daytona Prototype race at Long Beach live or on a brief same-day tape delay.

"This is a monumental day in the history of the Grand American Rolex Sports Car Series," Grand American President Roger Edmondson said. "The Toyota Grand Prix of Long Beach is one of road racing's crown jewels, and the importance of having the Rolex Series participate on that weekend cannot be understated to all of our stakeholders. While many series have one signature event, the addition of Long Beach to a schedule that also includes the Rolex 24 At Daytona gives the Rolex Series a pair of marquee races."

Renowned for their ability to race wheel-to-wheel and produce breathtaking action from flag-to-flag, the exotic, mid-engine Daytona Prototypes will almost certainly reach their top speed of 185 mph at the end of both the Shoreline Drive and Seaside Way straightaway. While Long Beach has seen various forms of GT and Trans-Am race cars over the years, the inaugural Daytona Prototype race in 2006 will be the first time in the 32-year history of the event that prototype sports cars will compete as part of the Toyota Grand Prix of Long Beach weekend.

"We are very pleased to add the Grand American Rolex Sports Car Series to the legacy of great racing at the Toyota Grand Prix of Long Beach," said Champ Car President Steve Johnson. "Long Beach fans have always supported sports cars as well as Champ Cars and we look forward to having Grand American join us for an action-packed weekend as we build on the tradition of America's Greatest Street Race."

Today's announcement brings the running total of confirmed 2006 Rolex Series dates to nine. The announced dates include the Rolex 24 At Daytona (January 26-29), Toyota Grand Prix of Long Beach (April 7-8), Mazda Raceway Laguna Seca (May 5-7), the Lime Rock Park weekend for the Rolex Series GT class and the Grand-Am Cup Series (May 27-29), Sahlen's Six Hours of The Glen (June 2-3), Mid-Ohio Sports Car Course (June 23-25), Crown Royal 200 at The Glen (August 10-11), Infineon Raceway (August 24-26) and Miller Motorsports Park (August 31-September 2). Additional events—as well as a complete 2006 schedule—will be announced in the near future.

Officials from California Speedway and Grand American are continuing discussions on a sanctioned race in 2006 at the facility, which has hosted annual Rolex Series and Grand-Am Cup events since 2002.


Copyright ©2000-©2016 TotalMotorSport