DTM
01/10/2005
Audi Driver Ekström On Third Row At Istanbul
Audi Qualifying Report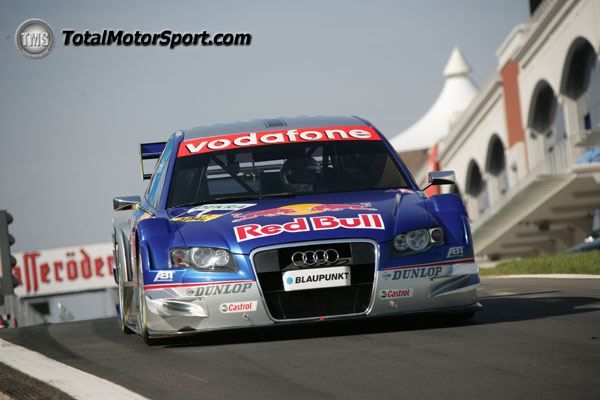 Audi Driver Ekström On Third Row At Istanbul

The leader of the standings, Mattias Ekström, is facing a difficult task in the DTM race at Istanbul Park, Turkey: as the best Audi driver, the Swede from Audi Sport Team Abt Sportsline claimed fifth place on the starting grid in the Super Pole qualifying session. His immediate rival, Gary Paffett (Mercedes), will start from pole position on Sunday, with three brand colleagues creating a buffer between himself and Ekström.

As the second-best Audi driver, Tom Kristensen will start from position ten. The Dane had been the quickest in Saturday morning's free practice. His best time of 1m 47.248s would have been enough for third place in Super Pole. Yet a mistake in the first turn of the single timed lap cost Kristensen the chance of clinching a place on the first two rows of the grid.

Best driver of a 2004-spec A4 entered by Audi Sport Team Joest was the German Frank Stippler, who finished 14th. Like on Friday, the top 16 cars in the qualifying came within a single second of each other.

The penultimate race of the DTM season is scheduled to start at 3 p.m. local time (2 p.m. German time) on Sunday. ARD will broadcast live from Istanbul, starting at 1.45 p.m.

Copyright ©2000-©2016 TotalMotorSport