SEAT CUPRA CHAMPIONSHIP
02/10/2005
Ferrier Wins Final Race
Breeze & Jackson Take Final Podium Places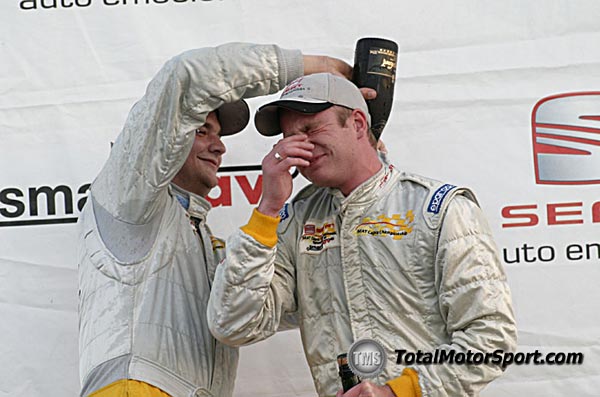 Tom Ferrier (Darwin/Team Parker Racing Leon Cupra R) drove brilliantly in the final round of the Smartnav SEAT Cupra Championship at Brands Hatch to keep Carl Breeze (Blue Chip Group/Barwell Motorsport Leon Cupra R) and Mat Jackson (Whale Tankers/Jackson Motorsport Leon Cupra R) behind him to win his second race of the season.

The top three pulled away from the rest of the field and were embroiled in a tremendously exciting 14 lap race around the Grand Prix Circuit. Mat overtook Carl and ran wide, and Carl regained the position. It remained an exciting race all the way to the chequered flag, with Tom having pulled away slightly and Carl finishing 2nd, just ahead of Mat.

Alan Blencowe (Blue Diamond/Barwell Motorsport Leon Cupra R) half spun at Surtees on lap two and kept his foot hard on the accelerator to flamboyantly keep his car on the asphalt. It worked and the cloud of tyre smoke lingered for most of the race. He eventually finished 7th to secure 5th place in the series and collect the final cheque for £10,000.

Mike Doble (Castrol/Doble Motorsport Leon Cupra R) was enjoying another good race and was running strongly in 5th before he hit the kerb exiting Graham Hill Bend and spun. He managed to stop just before he hit the tyre barrier and thereafter had a great battle for last place with Nick Leason (Cube Design/CMS Motorsport Leon Cupra R). They finished just 0.094 seconds apart – with the advantage going in Nick's favour.

Once again Tom Boardman (Special Tuning UK/Triple R Leon Cupra R) started from the back of the grid and drove slowly for three laps before coming into the pits. It had been a strange race day for Tom. He only had to start both races to become SEAT Cupra Champion and the only adrenalin rush he had all day was when he stood on the final podium with the title in his pocket.
Copyright ©2000-©2016 TotalMotorSport