F-1
03/10/2005
Rain Stops Play For Bonneville 400
BAR Record Attempt Put On Hold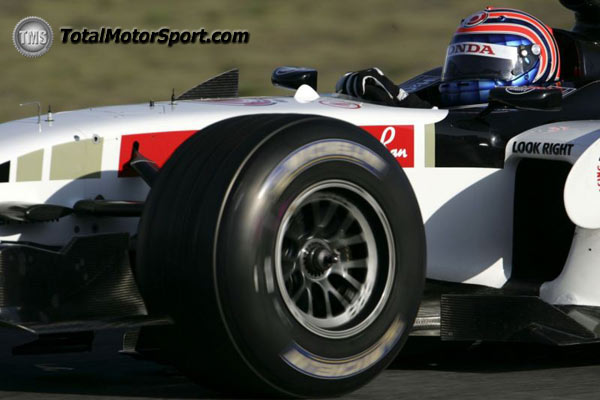 Rain Stops Play For Bonneville 400...For Now!

A sudden spell of rain in north-west Utah, USA has forced B*A*R Honda to postpone Bonneville 400, its attempt to set the first official Formula One land speed record. The project team is on standby to return at the earliest opportunity once the Bonneville Salt Flats have dried.

Up to an inch of standing water presently covers the seven-mile course on the legendary salt flats, and meteorological reports and forecasts suggest that the ambient temperature in the region will not be sufficient over the next week to evaporate the water to allow the scheduled running on the 5-8th October.

Senior members of the Bonneville 400 project team have flown out to the venue to assess the conditions on the flats and determine when a return to make the record attempt will be possible.

B*A*R Honda Sporting Director Gil de Ferran said of the postponement, "The adverse weather conditions in Bonneville have given us no other option but to postpone the scheduled running of the B*A*R Honda 067 on the Bonneville Salt Flats. This is a short term disappointment to the team, but the very nature of attempting to run a car at speeds in excess of 400 km/h on a natural surface means it is always susceptible to bad weather and we were fully prepared for this eventuality. We will be rescheduling our record attempt once our observation team returns to Brackley, but are determined to get back out to Utah again as soon as possible."

Mike Cook of the Southern California Timing Association who is assisting the team on its attempt, said; "Unfortunately, B*A*R Honda is the latest victim of the unpredictable weather in this area. Bonneville has a unique micro-climate and it is impossible to predict the long range weather conditions around here with any accuracy. It may come as some consolation for the team to know they aren't alone. Throughout the prestigious history of land speed record attempts here, many have been adversely affected by the weather. It's almost a spiritual rite of passage for record setters at Bonneville and will represent a test of the team's mettle. But having met them all, I know they'll be back to set the record."

An update on the revised timing for the Bonneville 400 record attempt will be provided as soon as it is available.

Copyright ©2000-©2016 TotalMotorSport