SCCA TOURING
10/08/2005
University Student Enjoying Touring Car Rookie Season
RealTime Acura Suits Youngster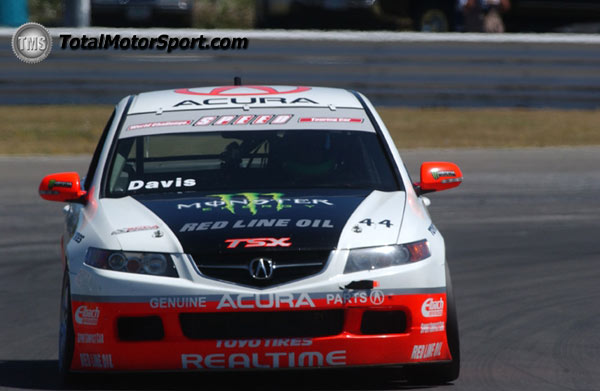 Denver University Student Enjoying Magical SCCA SPEED Touring Car Rookie Season

It is Wednesday, just about 72 hours before Saturday's Round Nine SCCA SPEED World Challenge Touring Car race in Denver, part of the CENTRIX Financial Grand Prix of Denver Presented by PacifiCare. It is 72 hours before, pending the outcome, 19 year old Brandon Davis could cement his standing as SPEED Touring Car's top rookie in 2005.

That is Saturday, however, and today is Wednesday. And today is about first-time apartment shopper Davis finding a new place to live in the Mile High City before his sophomore year at Denver University begins.

Ah, the pressures of being 19.

While anyone who has done it knows switching addresses can be a source of both excitement and stress, moving out of the dorms and finding a new pad for his second year of college is one of the few pressures Davis has had to face while taking part in his first full year of SPEED Touring Car competition.

Grabbing a spot with the highly successful RealTime Racing outfit prior to 2005 (and subsequently teaming up with SPEED World Challenge's most successful drivers in history in all-time wins leader Peter Cunningham and second-place Pierre Kleinubing) has given Davis the chance to learn at his own pace.

While the perennial championship chasers do their thing, Davis has been able to wean himself on their racing knowledge, applying what he picks up to his own style. Judging from this season's results, things appear to be working quite well.

"The whole thing with RealTime Racing has gone much better than I could have ever expected," the teen from California, said. "I remember a test day in Texas once with Peter where I joked to the crew guys that I'd maybe get to turn my lights on for one or two races this year."

Obviously, Davis has received much more than his original wish as he's raced in every round to this point and plans to finish the season with all 12 SPEED Touring Car events under his belt. With each round, Davis has shown a different flash of potential future brilliance whether it was turning a qualifying lap just off the pole, or running a lightning-quick race lap while showing RealTime-quality consistency throughout an entire race.

His best finish of 2005 came two weeks ago in Portland where he finished fifth the highest finish for a rookie this year. It's also a perfect example of the improvement Davis has shown thus far, considering he had never finished in the top 10 prior to this season.

"Up to that point, my best finish was a 12th," Davis said. "So, to now be running consistently in the top 10 every race, and now the top five, it has been great. I'm just having a great year."

In true Southern Californian fashion, Davis has accepted his success with laid-back enthusiasm; excited for what he has accomplished, but eager to improve more. It's an attitude that he said comes from being around Cunningham and the rest of the RealTime team.

"I've learned a lot about the consistency of being in a championship race, about getting a good finish every time while still trying to get faster every race," Davis said. "One of the things that Peter told me was that you could be in seventh and could go for sixth by really trying to stick [the car] in there. But if you get booted out, then that's a whole bunch of points you lose out on by finishing 14th or 15th. Those places are a lot worse than seventh. You have to think about that."

Aside from RealTime, Davis also receives guidance and support from his father, Mike, who also competes in SPEED World Challenge, but in the SPEED GT class. A tight bond exists between the two, and it's a relationship that the younger Davis relies on heavily.

"He's always there for support," Davis said. "He is the first person I call if he isn't at the race. He knows what I'm doing because he's watching live timing and scoring. He is my best friend, and he helps me a lot with everything."

The rest of the Davis clan is also involved in motorsports, and Davis said it gives his family something to share.

"My dad started racing when I was about four," Davis said. "My mom thought it was interesting, so she started to try it. It's just something that the whole family can relate to, which is nice."

Davis' parents do play an active role in his career, and should he wrap up The Winning Team Racing Apparel SPEED Touring Car Rookie of the Year honours Saturday, it will be just one more motorsports accomplishment for them to celebrate together.

But that's Saturday, and this is Wednesday. And today, Davis eased another worry as he picked out his new apartment, which he will move into in early September, just in time for school.


Copyright ©2000-©2016 TotalMotorSport