SCCA TOURING
08/08/2004
Late Race Pass Helps Plumb Win
Acura TSX & Mazda Hold Off BMW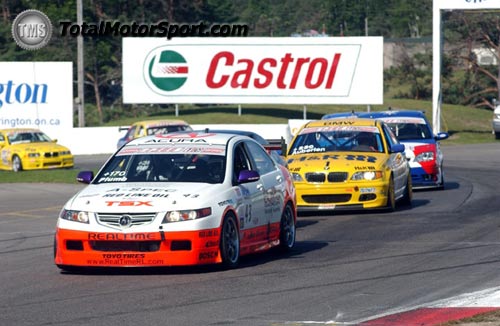 Late Race Pass Helps Plumb Win SCCA SPEED Touring Car Race At Mosport

Matt Plumb stayed clear of a turn one, lap one accident and then took advantage of a mistake by then race leader James Sofronas, late in the race, to help him win his second-career SCCA Pro Racing SPEED World Challenge Touring Car race Sunday morning at Mosport International Raceway. Charles Espenlaub drove through the field from his 28th starting position to finish second, while SPEED Touring Car point leader Bill Auberlen finished third.

Poised to get his record fifth-career win at Mosport, three-time series Champion Pierre Kleinubing got a good standing start, but that was about all that was good for the second qualifier. Heading into turn one a multi-car accident ended Kleinubing's day, as well as that of Air Force Reserve Polesitter Peter Cunningham, James Clay and Jeff Altenburg leaving Plumb the only top five qualifier making it to turn two with all of his bodywork.

Driving the No. 36 Bimmerworld/Ground Control BMW 325i, Clay moved in between the No. 4 NISMSO/TeamRTR Nissan Sentra SE-R driven by three-time series Champion Cunningham and Kleinubing in the No. 42 A-SPEC/RealTime Racing Acura TSX heading into turn one. The three made side-to-side contact and, as a result, Kleinubing spun across the nose of Clay, pinning Cunningham against the turn one wall. Kleinubing then got his car straightened out just in time to be sandwiched between Altenburg and Clay. This action forced Kleinubing into the turn one gravel. After all of the contact, Clay's BMW found itself badly damaged and stranded in the pit exit. Altenburg and Cunningham continued around to the pits with heavy damage to their machines, with only Cunningham continuing several laps down. Also caught up in the accident were Justin Marks, of San Francisco, and his team-mate Dino Crescentini as both spun to the back of the pack. The melee forced a five lap caution, which found James Sofronas in the lead for the first time in his career from the seventh starting position, a position he would hold for the first 26 of the 28-lap event.

When the race went green on lap seven, Sofronas began setting a good race pace with Plumb in tow. Plumb spent the majority of the race filling Sofronas' mirrors, trying to set him up for a potential pass. Then, on lap 26, Sofronas pushed wide in turn five, giving Plumb an opportunity to slip by. The error was further costly, as a hard-charging Espenlaub and Auberlen would follow Plumb's lead and move by.

Now, with Plumb in the lead, all he had to do was hold off Espenlaub for a lap and a half to record his second-career SPEED Touring Car victory and he did just that. Plumb powered his No. 43 RealTime Racing/SANZ/Sun MicroSystems Acura TSX to the win by a slim 0.765-second margin of victory.

"I got behind James [Sofronas]," Plumb said of his position following the turn one accident. "I knew he was running a good, solid pace. I knew I was a touch quicker than him in spots and he may have been holding me up a little bit. But, it was a good race pace. So, I started to bide my time a little bit to see where he was slow and where he was fast, and then just try to make him make a mistake. For the first three quarters of the race, he didn't make any. I think he saw where I was catching him and there was no chance I could actually get past him. But, all it took was a little mistake coming onto the straightaway and I was there and took advantage of it. Other than that, he drove an amazing race. He was consistent and smooth."

Driving the No. 97 Sparco USA/Oakley Mazda Protegé ES, Espenlaub put on a driving clinic from the back of the pack to finish second, a clinic rewarded with the Sunoco Hard Charger of the Race Award.

"Everybody kind of got into that whole mess on the start," Espenlaub said of his B&M Holeshot Award winning effort advancing 18 positions on the first lap. "I happened to make it through with the help of my teammate Scott Fredricksen up in corner one watching for me and he led me through there perfectly. Once I got up into the top five or six, I knew Bill [Auberlen] and Nic [Jonsson] were driving with a lot of [REWARDS] weight. I was hoping it would stay green the rest of the way and they would use their tires up. I don't know how those guys drive with that much weight in the car. I just tried to stay consistent so I could have something for them at the end.

"I don't know, it was kind of like a freight train through there," Espenlaub added about following Plumb past Sofronas for second place. "I just followed everybody else."

Espenlaub's second-place finish is his SPEED Touring Car career-best finish. His best finish prior to today was fourth at VIRginia International Raceway in 2002. Espenlaub also set a new fast race lap record with a 1:31.303 (96.956) en route to winning the UrbanRacer.com Hot Lap Award.

Auberlen, who spent time commuting between Mosport and Mid-Ohio Sports Car Course this weekend, where he won his Grand-Am class race Saturday, was consistent all day bringing his No. 1 Turner Motorsport/H&R Springs BMW 325i home in third.

"I was looking for any opportunity and I was going to take it," Auberlen said on his pass with Plumb and Espenlaub over Sofronas. "I just had to make him very decisive. If I didn't make it in one good clean shot, they wouldn't let it happen again because they have more straight line speed than I do. I made the pass on James [Sofronas] and it stuck.

"People were just so aggressive," Auberlen added about the melee that ensued after the standing start. "It looked like people were shoving. And, it was like they said, 'If your going to shove me, I'm going to shove back.' It looked like people were ramming back-and-forth into each other. I was just looking for any hole and I backed out of it a little bit so I wouldn't become a part of it. I just weaselled my way through it and made it out clean. I think [the accident] helped us out tremendously, because otherwise we would have had all of these other cars to contend with."

Sofronas held on for a solid fourth place performance in the No. 29 LectricAir/Techmark Corp/GMG BMW 325Ci, which is his third top-five and his seventh top-10 finish of 2004. Sofronas' team-mate Nic Jonsson brought his car home in fifth.

Auberlen leads the SPEED Touring Car Drivers' Championship with 197 points, followed by Jonsson (181), Plumb (176), Sofronas (145) and Marks (134).

BMW leads the SPEED Touring Manufacturers' Championship Presented by Racer Magazine with 53 points, followed by Acura (39), Nissan (18) and Mazda (13).

Race Results

1. (4), Matt Plumb, Newport, R.I., Acura TSX, 28.

2. (28), Charles Espenlaub, Lutz, Fla., Mazda Protégé ES, 28, -.765.

3. (9), Bill Auberlen, Rolling Hills Estates, Calif., BMW 325i, 28, -1.632.

4. (7), James Sofronas, Newport Beach, Calif., BMW 325Ci, 28, -2.161.

5. (6), Nic Jonsson, Buford, Ga., BMW 325Ci, 28, -9.719.

6. (16), Matt Richmond, Mooresville, N.C., BMW 325i, 28, -10.118.

7. (8), Justin Marks, San Francisco, Calif., BMW 325i, 28, -10.53.

8. (15), Shauna Marinus, Folsom, Calif., Mazda Protégé ES, 28, -12.863.

9. (13), Chip Herr(R), Lititz, Pa., Mazda Protégé ES, 28, -19.399.

10. (12), Bob Stretch, Dallas, Texas, BMW 325Ci, 28, -21.964.

11. (11), Ken Murillo, Santa Rosa, Calif., BMW 325Ci, 28, -37.668.

12. (17), Brandon Davis(R), Huntington Beach, Calif., Acura RSX, 28, -45.911.

13. (19), Fred Pignataro, E. Northport, N.Y., BMW 328is, 28, -46.671.

14. (20), Jim Osborn, Ooltewah, Tenn., BMW 325Ci, 28, -1:03.8969.

15. (18), Seth Neiman(R), Woodside, Calif., BMW 325Ci, 28, -1:09.1569.

16. (24), Nick Esayian(R), Encinitas, Calif., Acura RSX, 28, -1:12.826.

17. (22), Phil Parlato, Commack, N.Y., BMW 325i, 28, -1:14.449.

18. (26), Hugh Stewart, Massapequa, N.Y., BMW 325, 28, -1:35.723.

19. (25), Peter Schwartzott, Freeville, N.Y., Acura RSX, 27, -1 laps.

20. (29), Scott Bradley, San Jose, Calif., Mazda Protégé ES, 27, -1 laps.

21. (27), Kird Azemar(R), Westbury, N.Y., BMW 325, 27, -1 laps.

22. (14), Dino Crescentini(R), Malibu, Calif., BMW 325i, 27, -1 laps.

23. (1), Peter Cunningham, W. Bend, Wis., Sentra SE-R, 25, -3 laps.

24. (10), Memo Gidley, Novato, Calif., Ford Focus, 24, Drv Shaft.

25. (23), Jocelyn Hebert(R), Becanlour, British Columbia, Acura Integra R, 18, Mech.

26. (21), Leo Capaldi, Lenox Twp., Mich., Ford Focus, 17, Mech.

27. (5), Jeff Altenburg, Ellicott City, Md., Mazda 6, 2, Crash.

28. (3), James Clay, Blacksburg, Va., BMW 325i, 0, Crash.

29. (2), Pierre Kleinubing, Coconut Creek, Fla., Acura TSX, 0, Crash.

30. (30), Nick Majors(R), Toronto, Ontario, Sentra SE-R, 0, Withdrawn.

31. (31), Seth Thomas(R), Cumming, Ga., BMW 325i, 0, Withdrawn.

32. (32), Scott Fredricksen(R), Gastonia, N.C., Mazda Protégé ES, 0, Withdrawn.


Copyright ©2000-©2016 TotalMotorSport