SCCA TOURING
18/07/2004
Auberlen Drives Flag-to-Flag To Win In Infineon
BMW On Top Two Steps Of The Podium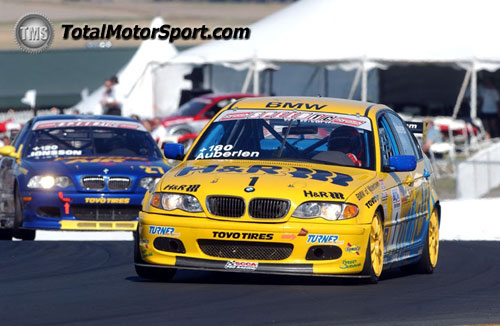 Auberlen Drives Flag-to-Flag To Capture SCCA SPEED Touring Car Round Four Win At Infineon

Polesitter Bill Auberlen drove flag-to-flag to win the SCCA SPEED World Challenge Round Four race at Infineon Raceway today, as part of the Infineon Grand Prix of Sonoma Presented by Napa Valley Marriott Hotel & Spa. Sweden's Nic Jonsson and Peter Cunningham finished second and third, respectively.

In what began as an inauspicious start to the Round Four race at Infineon, which found Matt Richmond's No. 37 Bimmerworld/Ground Control BMW 325i upside down just seconds into the standing start, ended in fairly predictable fashion with current SPEED Touring Car point leader Auberlen capturing his third SPEED Touring Car win of the season.

The Bimmerworld team had an unfortunate start to the race as Richmond ended upside-down as the result of being "sandwiched" between his two teammates, James Clay and Seth Thomas. Clay, who was two spots on the grid in front of Richmond, stalled his No. 36 Bimmerworld/Ground Control BMW 325i just as the start lights went out. Richmond, having no place to go, clipped the side of Clay at the same moment Thomas hit Richmond, up-ending Richmond's car. The result found Richmond upside down on the front straight, just 50 yards from the start/finish line. After climbing from the car, Richmond showed the fans that he was okay by standing on the car, with his arms raised in the air.

The first four laps, of the 23-lap race, were under yellow to cleanup and remove the Bimmerworld cars from the track. Once the race went green on lap five, Auberlen and Jonsson put on a driving clinic, showing how dominant the BMWs are at Infineon. Auberlen, the defending race winner, piloted his No. 1 Turner Motorsport/H&R Springs BMW 325i around the 2.53-mile circuit winning by 7.529-seconds over Jonsson.

"Nic [Jonsson] was very clean with me," Auberlen said of his battle with Jonsson. "He could have stuck his nose in a spun me out 10 different times. It was a great battle. I was stronger on one part of the course and he was stronger on the other part. And, we're lucky we got the win."

Jonsson spent the first 18 laps in a heated battle with Auberlen for the lead, trailing by less than one second, when then third place driver Bob Stretch, of Dallas, drove deep into turn three making contact with Jonsson causing both cars to spin. Jonsson quickly got back on the throttle and was able to maintain second place, while Stretch dropped to eighth.

"Bill [Auberlen] and I had a heck of a race," Jonsson said of his race with Auberlen. "It was very clean. But, Bob Stretch locked up all four wheels and t-boned me. I was already in the corner and he went straight into the side of my car and took me out. I don't think that is the way to go. I could have done the same thing to Bill if I wanted to. But, I think clean racing pays off. I am obviously disappointed because I think I had something for Bill. Fortunately, we got it going again and saved a second place, which better than not finishing. So, we're still in the Championship hunt."

Jonsson finished second for the third time in as many races in his No. 27 Lectric Air/Tecmark Corporation BMW 325Ci.

Three-time series Champion Cunningham, who spent much of the race running in fifth place, was the beneficiary of two racing incidents that happened lap 18. Cunningham took over fourth place when Stretch and Jonsson got together in turn three and then he moved to third when three-time series Champion Pierre Kleinubing was forced to retire due to a broken gear box.

"It was a steady race for the NISMO Sentra," Cunningham said of his third place finish. "Everything ran really well, but we just didn't match the speed of some of the rear-wheel drive cars. We just hung in there and moved up the running order through attrition, basically. We'll take third place any way we can get it, as long as we're not the one knocking into people. And, we look forward to tomorrow's race."

Driving the No. 4 NISMO/TeamRTR Nissan Sentra SE-R, Cunningham recorded his third consecutive third place finish of 2004.

Matt Plumb brought his No. 43 RealTime Racing/SANZ/Sun MicroSystems TSX in fourth, while Auberlen's team mate Justin Marks drove his No. 2 Turner Motorsport/H&R Springs BMW 325i to a fifth-place finish. Like Jonsson, Marks battled back from an altercation with Stretch, which dropped him to 21st place on lap five.

Scott Bradley won the B&M Holeshot award for advancing seven positions on the first lap of the race. Sometime Champ Car driver Memo Gidley won the Sunoco Hard Charger of the Race award for advancing 18 positions throughout the race.

Auberlen leads the SPEED Touring Car Drivers' Championship with 126 points, followed by Jonsson (106 points), Matt Plumb (96), Cunningham (90) and Justin Marks (84).

BMW leads the SPEED Touring Manufacturers' Championship Presented by Racer Magazine with 34 points, followed by Acura (21), Nissan (15) and Mazda (five).

1. (1), Bill Auberlen, Rolling Hills Est, Calif., BMW 325i, 23.

2. (3), Nic Jonsson, Buford, Ga., BMW 325Ci, 23, -7.529.

3. (5), Peter Cunningham, W. Bend, Wis., Sentra SE-R, 23, -8.641.

4. (6), Matt Plumb, Newport, R.I., Acura TSX, 23, -10.876.

5. (4), Justin Marks, Chico, Calif., BMW 325i, 23, -13.634.

6. (11), Dino Crescentini(R), Malibu, Calif., BMW 325i, 23, -14.811.

7. (10), James Sofronas, Newport Beach, Calif., BMW 325Ci, 23, -21.399.

8. (19), Kevin McKee, San Francisco, Calif., BMW 325Ci, 23, -38.679.

9. (18), Chip Herr(R), Lititz, Pa., Mazda Protégé ES, 23, -43.388.

10. (7), Bob Stretch, Dallas, Texas, BMW 325Ci, 23, -43.974.

11. (30), Memo Gidley, Novato, Calif., Ford Focus, 23, -44.977.

12. (20), Scott Fredricksen(R), Gastonia, N.C., Mazda Protégé ES, 23, -46.569.

13. (21), Jon Prall, Cupertino, Calif., BMW 325Ci, 23, -47.273.

14. (9), Paul Lambert, Sonoma, Calif., Audi A4, 23, -1:03.659.

15. (28), Andrew Monterrubio, Red Bluff, Calif., Acura Integra R, 23, -1:21.799.

16. (25), Nick Esayian(R), Encinitas, Calif., Acura RSX, 23, -1:24.064.

17. (27), Seth Neiman(R), Woodside, Calif., BMW 325Ci, 23, -1:25.211.

18. (23), Scott Galaba(R), Chicago, Ill., BMW 325Ci, 23, -1:28.024.

19. (15), Charles Espenlaub, Lutz, Fla., Mazda Protégé ES, 23, -1:31.483.

20. (29), Nick Woodhouse, Vancouver, British Columbia, BMW 325i, 22, -1 laps.

21. (31), Branden Peterson(R), Breckenridge, Colo., Honda Civic Si, 22, -1 laps.

22. (22), Brandon Davis(R), Huntington Beach, Calif., Acura RSX, 20, Mech.

23. (2), Pierre Kleinubing, Coconut Creek, Fla., Acura TSX, 18, Trans.

24. (17), Jeff Altenburg, Ellicott City, Md., Mazda 6, 13, OHeat.

25. (33), Peter Bovenberg, Campbell, Calif., Honda Civic Si, 13, -10 laps.

26. (13), Shauna Marinus, Folsom, Calif., Mazda Protégé ES, 10, Mech.

27. (16), Rick Maki(R), Santa Monica, Calif., Audi A4, 10, Mech.

28. (24), Scott Bradley, Mountain View, Calif., Mazda Protégé ES, 2, Mech.

29. (8), James Clay, Blacksburg, Va., BMW 325i, 1, Crash.

30. (12), Matt Richmond, Mooresville, N.C., BMW 325i, 1, Crash.

31. (14), Seth Thomas(R), Cumming, Ga., BMW 325i, 0, Crash.

32. (26), Jim Osborn, Ooltewah, Tenn., BMW 325Ci, 0, DNS.

33. (32), Mike Davis(R), Marina Del Ray, Calif., Honda Civic, 0, DNQ.

Copyright ©2000-©2016 TotalMotorSport