COMPONENTS
10/07/2002
Ricardo acquires Gemini Transmissions
Acquisition Strengthen Position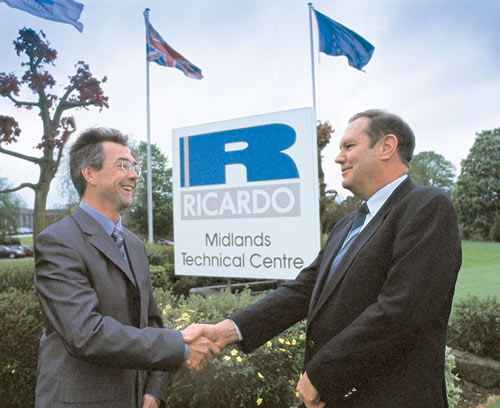 Ricardo boosts motorsport activities by acquiring the operations of Gemini Transmissions

Ricardo, an advanced automotive technology service provider for the world's leading vehicle manufacturers and tier one suppliers, has boosted its motorsport capabilities by acquiring the operations of Gemini Transmissions Limited of Brackley.

The acquisition will strengthen the high technology integrated offering to Ricardo motorsport customers and increases the number of employees dedicated to motorsport driveline & transmission activities to more than 100. It will also help Ricardo develop its motorsport activities in a £4 billion industry in which it has a growing presence.

Commenting on the move, Ricardo chief executive Rodney Westhead said: "Gemini presented an excellent opportunity to further increase Ricardo's ability to deliver quality complex projects and products in a timely fashion, whilst accessing, via Andre Verwey, a unique design talent. The acquisition will help us to build more rapidly our motorsport business which, because of the high level of technology involved, harmonizes well with our mainstream business of being an advanced technology service provider."

The Brackley facilities are conveniently located to Ricardo Midlands Technical Centre (MTC) near Royal Leamington Spa, which serves as a base for the Ricardo global motorsport operation. In addition to its motorsport capability, Ricardo MTC concentrates on driveline and transmission systems design, test and development for vehicle manufacturers, as well as vehicle engineering. Ricardo MTC will integrate its quality standards and management processes into the Gemini facility. In essence, Gemini becomes an integral part of Ricardo MTC.

Existing customers include major carmakers and prominent race and rally teams in Europe, Japan and North America. The latest products include a transmission designed for Porsche GT3R sportscars, a class of racing in which Ricardo has become heavily involved, also a six-speed sequential Super 1600 rally transmission. Gemini supplied the transmission for the 2001 and 2002 Le Mans LMP675 class-winning ROC VW, thereby complementing the transmission supplied by Ricardo for the top running LMP900 Audi R8s.

The acquisition is the first of several significant outcomes for Ricardo following the formation earlier in the year of a motorsport division to meet changing client and industry demands, while creating an additional platform for growth in this key sector. The new division integrates existing Ricardo skills in engine, transmission, vehicle and chassis design, combined with its expertise in software, simulation and electronic systems, which it draws from its technical centres in the UK, Europe and North America. These skills enable the company to provide the global motorsport industry with a one-stop shop offering an integrated motorsport service.

The 30,000 sq ft Brackley facilities comprise high specification state-of-the-art machine tools, which result from investments totalling over £10m. This includes high precision machines for generating crown-wheel and pinion-bevel gears as well as casing machining.

The machine tools at Brackley fully complement precision gear making and measuring equipment installed at Ricardo MTC. Ricardo also has an existing heat treatment facility that gives the company full control of a critical process that follows expensive machining operations. This is especially important for maintaining the high quality demanded by motorsport customers and the rapid turnaround required between races. Excluding raw materials and castings for transmission casings, the Gemini acquisition gives Ricardo the ability to produce an entire transmission in-house and more than doubles the manufacturing capacity available.

Respected technical authority, Andre Verwey, who founded Gemini in 1992 as a European base for his transmission systems and whose involvement in motorsport goes back over 35 years, will join the Ricardo Motorsport team.

Ricardo motorsport managing director, Gerald Andrews added: "Andre Verwey is a talented engineer who has built a successful motorsport transmission business. He will be a welcome addition to the Ricardo Motorsport team. Having more than 100 people dedicated to this particular activity puts us in pole position for supplying a wide range of motorsport customers with race-winning transmissions. The Gemini GT3 transmission, for example, now gives Ricardo a complete engineering package covering the body, powertrain and chassis to offer sportscar endurance racing teams."

The acquisition further enhances Ricardo's growing motorsport reputation, boosted recently through its high profile technology partnership with the history making, three consecutive winning, Audi Le Mans team for the supply of an advanced transmission. Earlier this year, Ricardo Motorsport also announced a three-year contract to supply Dallara, one of the world's leading motorsport chassis manufacturers, with transmissions for two new chassis for use in international single-seat race series.
Copyright ©2000-©2016 TotalMotorSport