COMPONENTS
07/07/2002
Audi just keep on rollin'
9 Years since engine failure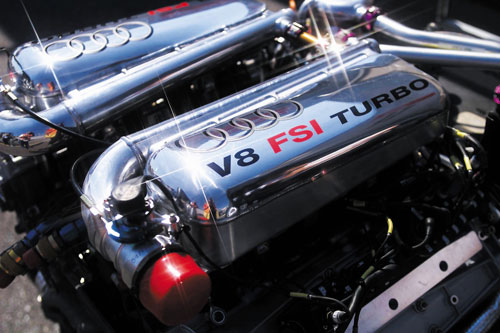 Audi's Le Mans Hat-trick Extends Reliability Run

"In-house" designed, manufactured and assembled V8 FSI engine offers stunning speed, exceptional economy and rare reliability

Audi scored its third consecutive Le Mans 24 Hour victory last month (15-16 June) which also kept up an amazing reliability sequence in motorsport which puts the German prestige car manufacturer firmly in the fast lane.

Frank Biela, Tom Kristensen and Emanuele Pirro triumphed in their Infineon Audi R8 featuring the latest FSI (petrol direct injection) technology - a hi-tech petrol-saving feature that will ultimately be seen on 1.6-litre A2 and 2-litre A4 models in Britain. The Audi R8 is widely regarded as by far the most advanced and well developed 'prototype' sportscar ever to have competed at Le Mans.

But the annual round-the-clock sportscar endurance race also saw Audi who design, manufacture and assemble their engines totally "in-house", not only leave their rivals trailing in terms of outright speed and performance but stunning reliability too.

Not since June 1993 has a "works" Audi retired in a motor race due to an engine problem. In those nine years, Audi competition vehicles can boast almost 1,000 separate races accounting for over 200,000-competitive miles in motor races worldwide - and not a single engine failure.

Audi's engine wizard is Ulrich Baretzky who heads a dedicated team of 43 technicians at Audi Sport's engine facilities in Neckarsulm and Ingolstadt. Formerly involved with Audi's Trans-Am and IMSA programmes and subsequently the two-litre A4 Super Touring engines, since 1999 the 47-year-old Bavarian has solely concentrated on Audi's 3.6-litre, twin-turbocharged R8 V8 - the world's most successful and reliable endurance race engine of its era.

"I joined Audi in 1986 having been apart of Nelson Piquet's 1983 Formula One World Championship success with Brabham in the days the Grand Prix cars ran with hugely-powerful turbocharged engines," commented Baretzky.

Baretzky, the Head of Race Engine Technology, began work on the all-aluminium R8 V8 engine in July 1997 - the first purpose-designed race engine since the Auto Union days in the 1930s. Cutting-edge FSI technology, a pioneering feat in motor racing, was introduced for last year's Le Mans race with the latest version used to great effect last month.

"We raced the fifth version of the R8 engine at Le Mans," confirmed Baretzky. "This latest evolution features a revised port, combustion chamber and injector designs. It takes one man 120 hours to build an engine. Since Audi made its sportscar début in '99, in 28 races featuring a total of 84 Audi R8 sportscars, we have achieved 23 wins - a truly phenomenal record in modern day motorsport.

"The FSI system produces up to 10% improvement in fuel consumption on the R8 V8. An additional benefit is its driveability, it's easier to drive courtesy of better torque. What is really exciting is that our production people are adopting this new technology and our roadcar customers can only profit."

Can Baretzky and the rest of his Audi Sport engine technicians now take a holiday? He added: "No way! All of the engines were totally stripped down the day after Le Mans and detailed measurements logged - that way we keep learning so that improvements can be made wherever necessary. Now that Audi has achieved it Le Mans hat-trick we will now aim for our third consecutive American Le Mans Series title and we finished 1-2 in Mid-Ohio last weekend (30 Jun).

"We have another ALMS race in one week so there is little time to rest. But in any case, it is not the Audi way to sit back. We all strive, whether it be our race teams or production people, for perfection and that means a lot of constant hard work."
Copyright ©2000-©2016 TotalMotorSport