COMPONENTS
21/05/2002
Hewland Engineering announce new gearbox
TLS transmission moves sportscar design forward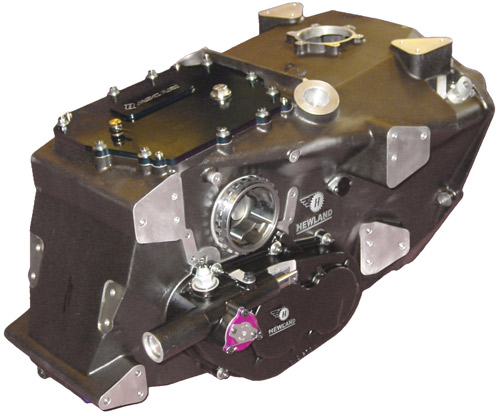 British racing transmissions specialists, Hewland Engineering, have released details of their highly acclaimed TLS gearbox. The brand new sportscar gearbox has just completed a rigorous test rig evaluation without a hitch and will soon be making its way to Banbury to be fitted into the latest Ascari.

Hewland, who supply gearboxes to Lister, Courage, BMW M3 GT3, JGTC and DTM to name but a few, have made great strides with the TLS gearbox, incorporating an ingenious new design that features a one-piece main casing, thus avoiding the rear top wishbone mounting to a bolt on part. (As used by Xtrac, Ricardo and the earlier Hewland design). This feature benefits rigidity and makes for easier differential access, fast becoming a necessity for endurance racing.

The TLS also features the rare advantage of the entire gear cluster and selection mechanism being easily removed from one side of the gearbox. This is facilitated by there only being two bearings on the shafts, doing away with the need for centre support bearings.

The TLS also features Hewland's new `SE` selection mechanism (as used in DTM) which has been developed for semi-auto or manual sequential use.

Hewland Engineering designs each installation specifically to the individual customer's requirements, working closely with the respective chassis designers to optimise fitting. Each client will have their own main case design. The gearbox weight, an increasingly important factor nowadays, is `well under 70kg`, according to Hewland, including integral engine oil tank, suspension mounts and adapter.

Hewland Engineering claim that the TLS gearbox has won unanimous favour from prospective clients over the winter, beating the Xtrac and Ricardo options when clients came to choose their own transmissions. Totalmotorsport do not know of any new sportscar being designed today without the Hewland TLS transmission.

To date Hewland have received TLS orders from Ascari, Piper, and Lister with another two clients expected to be announced.

Hewland gearboxes were fitted to the winning Corvettes at Sears Point, the Lister's at Brno and the DTM Mercedes driven by Jean Alesi at Donington over the weekend.

Transmissions will shortly be featured in the Technical area of Totalmotorsport.
Copyright ©2000-©2016 TotalMotorSport