LE MANS
21/09/2000
2001 Regs
Changes to LMP 675 engine regs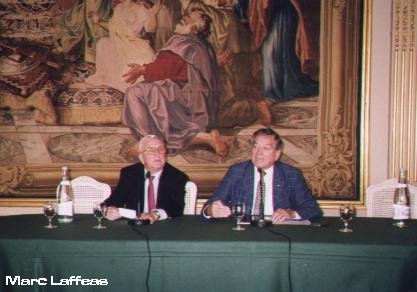 Marc Laffeas was invited to a meeting in Paris today for the announcement of the 2001 Le Mans Regulations, as applied to the ALMS.

The Le Mans site carries all the details as a .pdf file that can be downloaded.

Paul Belmondo, Hugues de Chaunac, Yojiro Terada, Jean Michel Bouresche, Didier Bonnet and Pierre Bruneau were among the audience.


The main evolution of the rules is in the LMP 675 class, in which it will now be possible to run

a 6 cylinder turbocharged engine with a 2000cc maximum capacity (4 cyl in 2000)
an 8 cylinder engine if it's normally-aspirated, with a 3400cc max (6 cylinder in 2000)
A rule that is cancelled is the need to have headlights switched on in day light.

The other small points are safety-related: in GTS and GT, relating to the time taken for the driver to get out o the car. In addition, laboratory crash tests are to be carried out under FIA supervision.

Michel Cosson added that Don Panoz will present before The Petit Le Mans next week the whole package of rules for the ALMS and ELMS.

Alain Bertaut explained that these modifications have been made for the improvement of the existing rules for the ALMS (with the help of Mr Donaldson, Doug Robinson of PSCR and Charly Cook). Le Mans is a spécial race and needs to have some specific adjustments; the definitive Le Mans rules will be released in January 2001 (it says here). The LMP 675 engine changes (above) are expected to apply to Le Mans regs. too, with the aim of offering contenders in this class the opportunity of an overall win.

The definitive Le Mans rules are expected to contain very interesting changes in the way the ACO selects entries for the race.

All arrangements are apparently in place (planning etc.) for work to begin on removing the Mulsanne hump, although the concensus of the meeting unsurprisingly felt that such work is unnecessary.

At the end of the meeting, a question from among the audience raised the subject of the full or single roll hoop. Apparently all the teams voted for the single hoop in June, but Lola and Reynard have apparently had a change of opinion, while the SRWC favours the full hoop. The single roll hoop is an F3000 specification design, with FIA approval, so it seems that the single hoop will continue to be allowed. Confirmation in January??

It was confirmed that the SALEEN S7 is eligible for Le Mans and the ALMS ("Eligibilty of a car is the responsibility of the ACO"). Alain Bertaut and Daniel Perdrix are going to inspect the car in England on September 22.

Finally, Marc Laffeas hints at some Lister-related comments in the meeting. Details later.
Copyright ©2000-©2016 TotalMotorSport