BAR Ready To Challenge Top 3 With New Car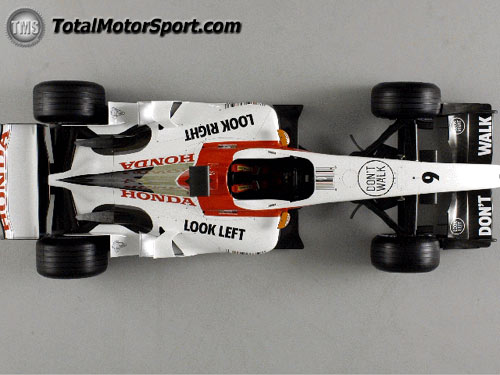 Lucky Strike B·A·R Honda believes it is can provide a credible challenge to the top three teams with its all-new B·A·R Honda 006 car, launched today at Barcelona's Circuit de Catalunya. The new car represents another major performance step - one which Team Principal David Richards predicts will see B·A·R fighting for regular podium places in 2004.

The success of last year's car was the result of a dramatic improvement in engineering standards, which enabled the team to move up from eighth to fifth place in the Championship, marking them out as the season's most improved team. A significant evolution of the 005, the B·A·R Honda 006 is a further step forward in design and build quality and the product of a more challenging and innovative approach.

The new chassis is stiffer and has a lower centre of gravity. It also features a smaller fuel capacity to reflect the revised qualifying rules and raised pit lane speeds. The biggest single development is the new gearbox. It features a full carbon-composite maincase, together with narrow, lightweight gear ratios which afford a very substantial weight reduction at the rear of the car. There are further weight-saving features throughout, with greater use of MMC (metal matrix composite), innovative upright design, simplified internal suspension components, and a refined and better integrated hydraulics system.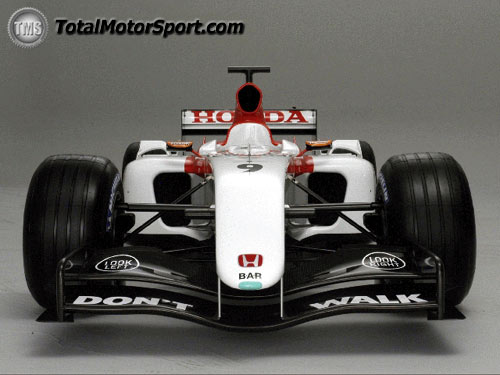 The new engine and chassis allow a slightly shorter wheelbase, and the aerodynamic package has been optimised. B·A·R has used the results of track testing last year to identify a new strategy for aerodynamic development, and the new car has been developed in the wind tunnel using these new techniques. Although the change of aerodynamic regulations has slowed down the pace of improvement, the new car shows clear performance advantages in the tunnel over its predecessor.

Honda has produced a new engine to meet the challenge of the single-engine rule introduced for the first time this season. Although similar in concept to the 2003 unit, it too is a completely revised design, with much smaller dimensions, reduced weight and a lower centre of gravity.

For 2004, B·A·R has also forged a new partnership with French tyre supplier Michelin. The team has conducted an extensive programme of tyre development during winter testing in readiness for their debut season together, using nearly 1,000 tyres during 10,000 kilometres of testing.

Getting their first taste of the B·A·R Honda 006 today were new team-mates Jenson Button and Takuma Sato - one of the youngest driver pairings on the 2004 grid. Despite having only recently turned 24 years of age, Jenson is entering his fifth season in Formula One in the role of B·A·R's team leader. Following Takuma's excellent, if somewhat impromptu, race debut for the team in Japan at the end of last season, he is looking forward to benefiting from his wealth of testing experience in his second full season of racing in F1.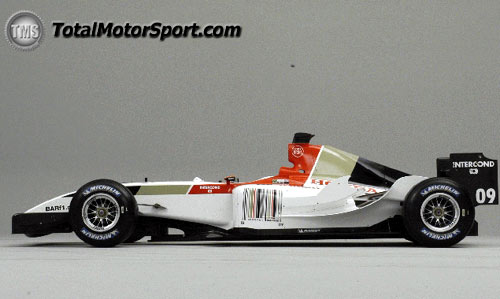 David Richards, Team Principal
"As we enter the third year of my tenure at B·A·R, a great deal of the groundwork is behind us and we are now in a position to provide a consistent challenge to the top three teams. Our relationship with Honda has developed immeasurably, to the point where we now have a totally integrated engineering team, and the B·A·R Honda 006 is testament to the strength of our partnership. Our driver line-up of Jenson Button and Takuma Sato provides us with an exciting combination of youth, experience and ambition, which has dramatically boosted the team's motivation to succeed. The whole operation is moving forward relentlessly and as each week goes by I see our team taking another methodical step towards our long-term goal of front line competitiveness."

Geoffrey Willis, Technical Director
"I am very confident that we have made another big step forward with the B·A·R Honda 006. It has been a big challenge, particularly with the tough new engine regulations, but has been ten months in design and represents another milestone in our long-term strategy. Our main objective in 2003 was to establish a credible engineering base, and 2004 provides us with the opportunity to use that credibility and be innovative in design. We now have the extra resource of Honda engineers recruited into the B·A·R design team, and we are beginning to see the benefits of an integrated, stable engineering base. In addition, testing with Michelin has given us the confidence that we have made good progress this winter. By the time the first race comes around, we will have completed almost three times as much testing as in the same period last year, and that extra effort is already visible in our greatly improved reliability. It is always difficult to predict performance against other teams before the first race, but we are certainly looking forward to getting the B·A·R Honda 006 on track."

Jenson Button
"2004 looks set to be a very exciting season for us. Pre-season testing has been going really well and the highlight so far was setting the new lap record in Barcelona two weeks ago. We didn't disguise the fact that we were running low fuel but the purpose of the run was to gauge car performance in that trim. As you can imagine, we were very pleased with the result! The car is a major step forward and I feel very confident that the team isn't overstating its expectations for this year when we say we can fight with the top three teams. I think Taku and I will work very well together and hopefully we can look forward to the same kind of results we achieved in Japan. I think this year will definitely bring us podium finishes and, who knows, perhaps my first win as well."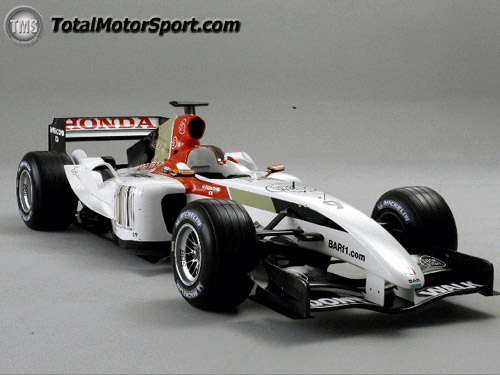 Takuma Sato
"I'm very excited about racing with B·A·R this season. Jenson and I will be a strong partnership, the car looks very good and I think we have every reason to feel positive. This will be my second full year of racing in F1 and my first opportunity to build on the valuable lessons I learnt in 2002. In my position as B·A·R third driver last year I had a great opportunity to prepare for this season, so I feel very comfortable that I will be able to play a big part in achieving the team's ambitions."

Takeo Kiuchi, Head of Worldwide Automobile Racing and F1 Project Leader for Honda Racing & Development
"First of all I am very pleased with the new RA004E engine. We have extended our engine's life, while making it smaller and lighter with a lower center of gravity. As for power, I am confident we will exceed our Suzuka level by the time we get to Melbourne. I am also very pleased to see that our chassis engineers are really beginning to have a positive impact on the car's development and are supporting Geoff's team well."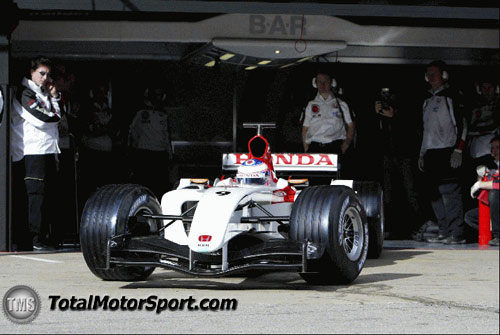 Copyright ©2000-©2016 TotalMotorSport