Infineon Audi R8 2002


Can you further improve a car that won the Le Mans 24 Hour race twice in a row and the American Le Mans Series (ALMS)? The technicians at Audi Sport asked themselves this very question after a successful 2001 season. And the answer was yes. "The car and the new FSI engine still offered potential which we found and utilised," explains Head of Audi Sport, Dr Wolfgang Ullrich.

At first glance the 2002-spec Infineon Audi R8 looks exactly the same as last year's car. "We only changed nuances on the outside of the body," says Wolfgang Appel, Head of Vehicle Technology at Audi Sport. "The modifications are hard to recognize, even for an expert. But we have optimised the R8 in all areas." No spectacular modifications were made, but a lot of effort was put into details. Whether the fine finishing of cooling air ducts, the reduction of friction loss in the mechanics, the optimising of the suspension geometry on a dynamic test bed or a further lowering of the centre of gravity – the modifications are subtle but effective overall. Appel is convinced: "The car should be faster than last year on all tracks."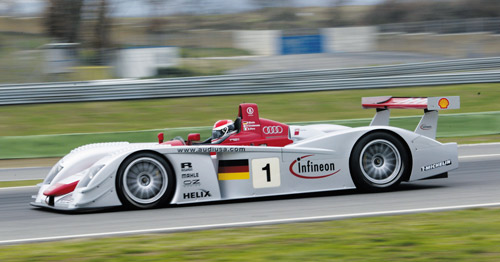 The meticulous search for hidden potential revealed at the same time that the R8 from the previous year had been almost the perfect racing car. "Balance and weight distribution were exactly how we wanted them," says Appel.

His colleague Ulrich Baretzky, Head of Engine Technology and responsible for the development of the 3.6-litre V8-twin-turbo unit, faced a similar task to Appel. For the 2002 season there was no new engine to be built but the FSI power plant had to be fine-tuned. "Because last year the development time leading up to Le Mans was very short we knew the FSI engine still had some potential," explains Baretzky. "In the meantime we gained a lot more experience with the FSI technology."
The enhancement of top-end power was not in the foreground, as it is limited by the mandatory air restrictors. "The focus was more on torque characteristic and fuel consumption," explains Baretzky, who is satisfied with the outcome: "The engine is even better in 2002 than it was in 2001 – and the driver can feel it." Introducing direct fuel injection (FSI) last season Audi once again proved their slogan "Vorsprung durch Technik".




In an FSI engine the exact amount of necessary fuel is directly injected into the combustion chamber applying a pressure of 100 bars. The effects are lower fuel consumption, an increase of power at low revs and a better response. "The engine responds to the throttle like a normally aspirated unit," enthuses Audi driver and ALMS champion Emanuele Pirro.

But the Infineon Audi R8 is not only "state-of-the-art" when it comes to engine technology and the racing sportscar still to be beaten. The enormous rigidity of its carbon fibre chassis sets new safety standards. The transmission of power to the Michelin-shod rear wheels goes via a sequential six-speed gearbox which is activated pneumatically by gear shift paddles on the steering wheel. Gear shifting is considerably more precise than it would be manually and only causes minimum wear – a decisive factor for long distance races.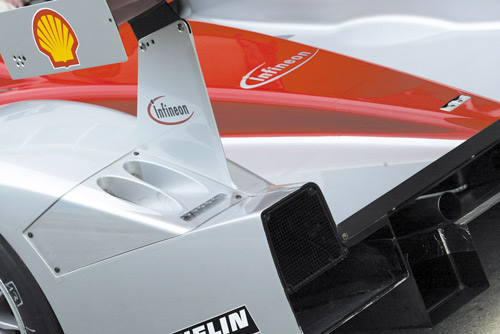 For the drivers the column selector is not only comfortable but a safety factor. They can have both hands at the steering wheel and still change gears in the middle of a corner. A starting function assists the Audi pilots in perfectly exiting the pits after a pit stop. From the cockpit various engine mappings can be chosen in order to adapt the motor characteristics to the track layout and the weather conditions. The electronic monitoring of tyre pressure warns in case of dangerous tyre damage.

One decisive strength of the R8 is its durability. "We do not take any technical risks," declares Dr Wolfgang Ullrich. "Durability is the highest precept at Audi."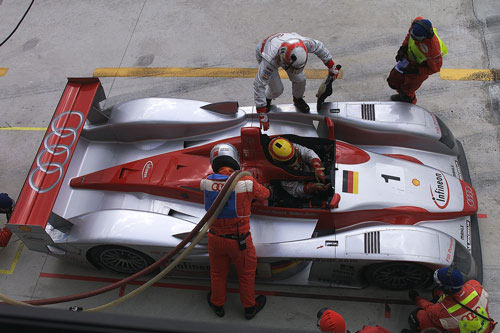 Technical Data

Vehicle type: Le Mans Prototype (LMP 900)

Chassis Carbon fibre Monocoque, crash structure ACO and FIA approved. CFC rollbars front and rear, carbon fibre body work

Driveline

Engine: V8, turbo charged, 90 degree cylinder angle, 4 valves per cylinder, 2 Garrett turbo chargers, to comply with the rules 2 x 32.4 mm air restrictors and boost pressure restriction to 1.67 bars absolute, direct fuel injection FSI
Displacement: 3600 cc
Engine management: Bosch MS 2.9
Engine lubrication: Dry sump, Shell lubricants
Output: 610 hp
Torque: more than 700 Nm




Transmission: Sequential 6-speed sports gearbox, partner Ricardo, Driving the rear wheels
Clutch: CFC clutch
Differential: Multiple-disc limited-slip differential
Driveshafts: Constant-velocity plunging tripod joint

Suspension

Steering: Rack-and-pinion power steering
Suspension: Independent suspension at front and rear. Double-wishbone suspension. Pushrod system with horizontal spring/damper unit, adjustable gas-filled shock absorbers
Brakes: Hydraulic dual-circuit brake system, monobloc light-alloy brake callipers, ventilated carbon fibre brake discs at front and rear, brake balance adjustable by driver

Wheels

Rims: O.Z. forged magnesium rims
Front: 13.5 x 18 inches
Rear: 14.5 x 18 inches
Tyres: Michelin Radial
Front: 33/65-18
Rear: 37/71-18

Dimensions

Length: 4650 mm
Width: 2000 mm
Height: 1080 mm
Weight: 900 kgs Ballasted
Fuel tank capacity: 90 litres



Copyright ©2000-©2016 TotalMotorSport